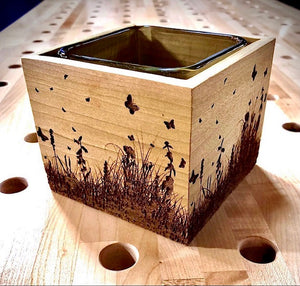 Candle Holder Measurements (inches):

Height: 3 1/2" 

Width: 4 1/4" 

Length: 4 1/4"

Wax Type:

100% soy 

Notes:
This beautiful Butterfly Meadow wood candle holder has been laser cut into 2/8" thick Poplar wood. It is coated in a light water based top coat to protect the wood.


Each piece will vary depending on the grain of the wood. It comes assembled: 4 walls and a base. It is made to hold a square 13oz candle.