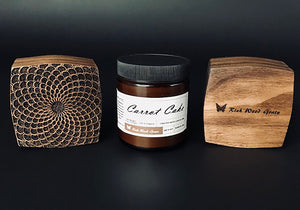 Candle Holder Notes: "
This beautiful handmade candle holder made from walnut with engraved textured design comes with a 4 oz candle.
Holder Measurements (approximates): 
Height: 3.5 inches
Width: 3.75 inches
Weight: 3.0 oz 

Wood Type:
Candle Notes:
Wax Type:
 Burn Time:
4 oz. burn time 20+ hours
 Container Description (recyclable glass and reusable lid):
Scent Descriptions:
Amber Lavender : Warm and light musk scents of amber blend with clean lavender for a comforting fragrance.
Business Casual : Like a new car or new shoes we all love the smell of fresh leather.
Cabri Blue : Tropical fruits, sugared oranges, lemons and limes, redolent with lightly exotic mountains greens.
Carrot Cake : Mouthwatering scent of carrot cake spices and hints of orange zest blended with warm vanilla and buttercream frosting.
Cinnamon Crust : The rich and spicy scent of freshly ground cinnamon.
Clean Cotton : The clean scent of freshly folded laundry with a touch of green floral tones and citrus.
Comma Cashmere : Exotic spice notes, notes of saffron, pimento berries, white pepper, and a lovely blend of floral, patchouli, and vanilla.
Eucalyptus : A refreshing and clean scent of green and woody eucalyptus leaves.
Cherry Blossom : The popular flirty fragrance blends together flowery cherry blossom and hydrangea with citrus and juicy peach.
Marbled White : Fresh cotton and crisp ozonic notes; followed by middle notes of white blossoms.
Vanilla Spice : A creamy scent of sweet, sugary, buttery vanilla. The vanilla is a warm, woodsy scent that's at once comfortingly familiar and unexpectedly complex. Top notes of caramelized sugar envelop toasty hints of clove and cinnamon, while notes of vanilla and butter provide an equally sweet and earthy finish.
Night Ice : Masculine and clean with musk and soft floral notes.
Pumpkin Spice : The best smell of the fall- pumpkin with cinnamon.
Black Seashell : Sweet yet salty oceanic accords combine with an undercurrent of amber and vanilla.
Small White Leaf : Delicious apples, red berries, Florida orange, cinnamon, clove, golden nectar, falling leaves, white musk.
Mahogany Teakwood : Green, citrus and fruit top notes with floral notes of jasmine, rose and lily middle notes enhanced by sweet woody musky
Customer Reviews
01/04/2021
Uyen
United States
Beautiful
Lovely candle holder
01/04/2021
Kim
United States
Amazing!!
Simple and easy process
01/04/2021
Ted
United States
Beautiful candle holder
The quality of this candle holder is amazing. Nice detail, sturdiness, and weight.